The sticker is created on the spot, if you go back up in fact you can choose the size and color you prefer.

The sticker is obtained from a vinyl sheet of the desired color, cut by a special machine that creates the design with the dimensions you have chosen.

Subsequently, the excess parts are eliminated.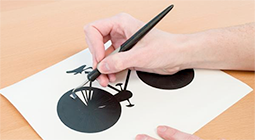 In summary, therefore, the stickers have no background or contours between one letter and another, they are made only of the chosen color.